Neuroscience Nutrition Foundation
<![if !vml]>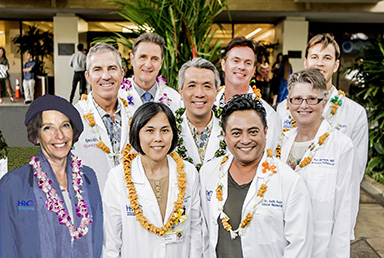 <![endif]>
Hawaii Dementia Prevention Trial Team
Nutrition Research and Education for
Neurologic Disorders
Alzheimerís disease
Vascular dementia
Parkinsonís disease
Migraine
Stroke risk reduction
Epilepsy
Multiple sclerosis
Amyotropic lateral sclerosis
<![if !vml]>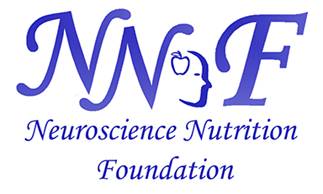 <![endif]>
Phone: (808) 280-6894
Neuroscience Nutrition Foundation
P O Box 81426
Haiku, HI 96708
Email: steve@drsteveblake.com
Please Support our Ongoing Research and Education to
Protect your Brain
<![if !vml]>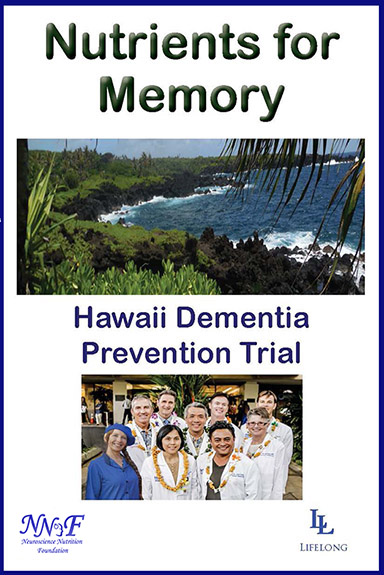 <![endif]>
Nutrients for Memory is a book that lets you know which
dietary and nutrient changes worked to reduce memory
problems in the Hawaii Dementia Prevention Trial. As you
can see from the graph, memory problems were
better after the 9-month trial.
<![if !vml]>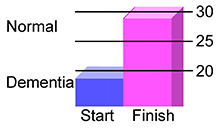 <![endif]>
<![if !vml]>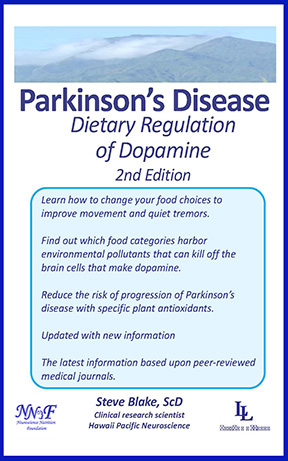 <![endif]>
Parkinsonís Disease is a book that summarizes our research
on reducing symptoms by altering diet. You can learn which
contaminants in which foods are destroying dopamine-producing
brain cells. Neuroprotection is the key to slowing the
progression of Parkinsonís disease.
<![if !vml]>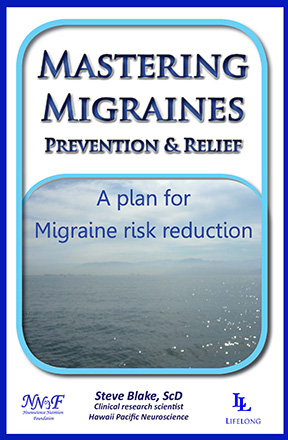 <![endif]>
Mastering Migraines is a book that summarizes our
research on dietary techniques to reduce the
frequency and severity of migraine headaches.
Phone: (808) 280-6894
Please send checks to:
Neuroscience Nutrition Foundation
P O Box 81426, Haiku, HI 96708
Our Distinguished Supporters:
Pat Borman, MD
Director, Center for Healthy Aging, Memory and Brain Health
Paul Adapon, MD
Neuroscience Research & Clinical Trials
Thomas Harding, PsyD
Neuropsychology
Panida Piboolnurak, MD
Movement disorder neurologist
Brenda Davis, RD
Clinical Nutrition Specialist
John Patrick Murphy, Esq.
Gold Supporter
Neuroscience Nutrition Foundation
Catherine Blake
President
Steve Blake, ScD
Research Director
<![if !vml]>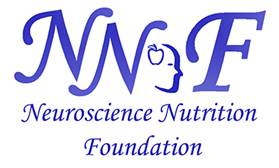 <![endif]>
Why our research is different
First of all: Do no harm
All of our dietary and nutritional
suggestions use safe foods and
nutrients with only helpful side effects.
New information
We are discovering new nutritional
approaches to neurologic disorders
by combing worldwide scientific and
†medical journals.
Neuroprotection
Brain cell loss is a leading contributor
to neurodegenerative diseases. We
are finding ways to protect our brain
cells, including antioxidant polyphenols.
Risk reduction
Certain foods may trigger migraines.
Certain foods harbor contaminants
that can kill dopamine-producing
brain cells. We are finding ways to
reduce further brain damage and shrinkage.
Essential nutrients
Certain nutrients are known to be
necessary for the brain and may be
lacking in some diets. We are
identifying these nutrients and
making sure that they are present.
<![if !vml]>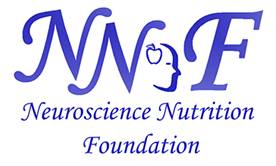 <![endif]>
Help us continue our care
Television shows :
KITV The Doctor Is In: Hawaii
Dementia Prevention Trial
Nutrition for stroke risk reduction
Your Brain Matters, Olelo TV.
Parkinsonís nutrition with Hawaii
Parkinsonís Association
Nutrition for Alzheimerís disease with
Alzheimerís Association
Grand Rounds:
Parkinsonís disease, Castle Medical Center, CME.
Alzheimerís disease nutrition, Hawaii Osteopathic
Doctors Assín CME Annual Conference
Hawaii Dementia Prevention Trial at
Boston Medical & UH Medical School.
Public lectures:
289 recent lectures: Alzheimerís,
Hawaii Dementia Prevention Trial,
Stroke risk reduction,†
Cooking for Brain Power,
Parkinsonís disease,
Migraine prevention and relief,
Food for Brain Power,
Epilepsy and flavonoids,
Eat right for Parkinsonís.
Patient trainings
448 clinical patient education sessions at
Castle Medical Center and St. Francis, Liliha.
Hawaii Dementia Prevention Trial:
Authored the nutritional protocols
Ran the trial for two years
HADEPT recipe book
Successfully battled dementia

Phone: (808) 280-6894
Neuroscience Nutrition Foundation
P O Box 81426
Haiku, HI 96708
Email: steve@drsteveblake.com
<![if !supportLineBreakNewLine]>
<![endif]>
Please Support our Ongoing Research and Education to
Protect your Brain